TAMPA BAY AREA PROPERTIES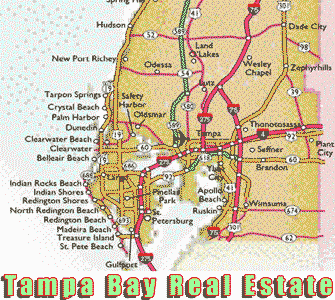 When choosing a home it is important that you have an Agent on your side who is an expert in the local Real Estate market. A Buyer's Agent will focus on getting you the best possible home at the best price. They will be representing you, NOT THE SELLER. This assures that their experience and expertise in the local market will be utilized in your best interest during the negotiation process. You'll want an Agent with the experience to know the local neighborhoods, schools,and market conditions with years of experience in the local market. There is currently a substantial amount of inventory in the form of pre-foreclosures and short sales. A good Buyers Agent has the expertise and track record that you need.

This is a place for finding real estate properties in the Tampa Bay Area, take a look at homes in Tampa, St Petersburg, Clearwater, Gulf Beaches and numerous other communities in the 3 county area. Then select from the ad's presented to receive more information.



South Tampa provides convenience to Downtown Tampa and MacDill Air Force Base. Hyde Park, Palma ceia, and the Bay Shore neighborhoods offer a variety of affordable and up-scale single family residents, old cottages, smaller rehabed homes, and a mixed bag town houses & condominiums.
CLICK HERE For South Tampa Real Estate Information

Country Club Living in New Tampa, the rapidly growing estate area of Northeast New Tampa
CLICK HERE For New Tampa Real Estate Information

East of Tampa growing communities such as Fish Hawk Ranch are sure to delight the discriminating buyer.

CLICK HERE For Brandon / Riverview Real Estate Information

The Tampa Bay Gulf Beach area is rated among the best vacation places in the world. Upscale Gulf front and Intracoastal Condominiums, Townhouses, and Luxurious Homes are available along the Pinellas Suncoast.
CLICK HERE For Tampa Gulf Beaches Real Estate Information

Within the city limits of Clearwater are found the homes, condominiums, communities, and commercial areas that you would expect from the 3rd largest city in Florida. PLUS you have the very popular Clearwater Beach resort area and the upscale beach front condo complexes of the area known as Sand Key.

CLICK HERE For Brandon / Riverview Real Estate Information


Madeira Beach Florida, located halfway between Clearwater Beach and St. Pete Beach is a two mile long stretch of the Gulf Coast barrier islands, joined to the mainland near St. Petersburg by a free causeway. As one of Tampa Bay's Gulf Beach communities, Madeira Beach offers a quieter alternative to the larger, more populated beach towns.

CLICK HERE For Madeira Beach Real Estate Information



Large city living in St. Petersburg and beach & waterfront living in St. Pete Beach provide a myriad of choices for the residential real estate buyer looking for value in Florida real estate.

CLICK HERE For St. Petersburg / St Pete Beach Real Estate Information

Tampa Bay's Northern Paradise. West Pasco County offers Gulf of Mexico coastal living, Golf Course communities, and country home sites, all an easy drive from Clearwater and Tampa.
CLICK HERE For West Pasco County Real Estate Information


The Tampa Bay Area encompasses three counties and is home to over 2 Million residents. It's a region that attracts millions of tourists each year, who appreciate the mild winter climate, spectacular sunsets,and beautiful beaches. Those of us who live here we enjoy wearing shorts in January and head to the beach after work to enjoy the sunset. And we are thankful, with each and every day , to have made the decision to live in Tampa Bay.

Tampa Bay Real Estate is in the Sports Capital of Florida with the Super Bowl Champion Tampa Bay Buccaneers playing NFL football in Tampa. The Tampa Bay Lightning won Hockey's coveted Stanley Cup playing at the St Pete Times Forum. Baseball's American League Tampa Bay Rays play at St Petersburg Tropicana Field. Other sports are available to Tampa Bay Residents including golf,tennis,volleyball,and soccer, all available year round due to our mild winter climate. The more you learn about us,the more we're certain you'll decide to make this special region your home.

The Tampa Bay Gulf Beaches Real Estate are located on a beautiful peninsula bordered by the Gulf of Mexico to the west and by Tampa Bay to the East. It is home to Fort De Soto Park, named America's #1 Beach in 2005. We're within minutes of many popular Florida Attractions: just 30 minutes to Busch Gardens in Tampa and 90 minutes to Walt Disney Resort,Universal Studios and Sea World. Come personally experience our warm Gulf Sunsets, our unique cultural heritage,our vast sporting and recreational activities, fresh seafood, and great shopping. There are world renowned Museums, family fun and endless sunshine. Water sports abound with boating, sailing, swimming, fishing, jet ski, parasailing, and windsurfing. We're everything you want, all right here.

South Tampa Real Estate South Tampa is the area of Tampa, Florida bordered on the North by the Hyde Park area and on the South by the MacDill Air Force Base. Davis Island adjoins the South Tampa area and offers outstanding real estate opportunities. A peninsula stretching into Tampa Bay, South Tampa offers Waterfront Homes in the Westshore area, along Bayshore Boulevard, and on Davis Island.

South Tampa consists of many individual neighborhoods all of which provide convenient access to Downtown Tampa, Mac Dill AFB, Tampa International Airport, University of Tampa, and Interstate 275.

Housing options range from very affordable single family homes, townhomes, and condominiums to luxury mansions. South Tampa's convenience to MacDill Air Force Base makes it popular for Off-Base Housing for Military Personnel.

Shopping, dining and entertainment options are all readily available to residents of South Tampa. In addition to neighborhood stores the Westshore Mall and Hyde Park Village are both close by. Highly rated local bistro's and cafes abound, and the Soho area features many restaurants and entertainment venues.

Homes in South Tampa are available from the $300's to over $1,000,000.

New Tampa Real Estate is situated only minutes from I-75 and is close to shopping centers, medical resources, public schools, a regional library, the University of South Florida, and upscale office and technology parks. Attractive hotels and convention facilities are linked to residential areas and services by Tampa's best road system. Four area hospitals and USF's Medical School are nearby. In New Tampa, community leaders and developers are working hand-in-hand to maintain a clean, unobtrusive blend of residential and commercial areas. Environmental codes are strict. Planning is first-class. Residents will benefit from the forward thinking and planning which today makes New Tampa the most desirable area of Tampa Bay Florida. Homes in New Tampa are available from the $300's to over $1,000,000.

Brandon Real Estate is in an unincorporated community located in Hillsborough County, Florida. The Brandon area consists of approximately 89 square miles and a population of more than 110,000. It includes the communities of Seffner, Lithia, Dover, Durant, Mango, Valrico, Riverview and Bloomingdale. Brandon provides small town living with easy access - approximately 12 miles - to the "big city" of Tampa Florida. In addition to the activities available within Brandon, residents also appreciate their close proximity to area beaches, Central Florida attractions, sporting events, and the Tampa International Airport. The Brandon area is easily accessible to all parts of Tampa by the Crosstown Expressway, State Road 60, Interstate 4,Interstate 75 and a number of county roads. Driving time from downtown Tampa is approximately 15-20 minutes. MacDill Air Force Base is located in south Tampa, a 25-30 minute drive on the Crosstown Expressway. Tampa International Airport is within a 30-minute drive of Brandon. New and resale homes are available in Brandon from the low $200's to over $1,000,000

West Pasco County Real Estate is situated along the Nature Coast of Florida overlooking the beautiful blue-green waters of the Gulf of Mexico. West Pasco Florida provides a superlative lifestyle for residents young and old with a distinctive small-town charm and proximity to major metropolitan areas. Both new and mature communities, less than a 45 minute drive to Tampa, offer residents urban, suburban, and rural life styles - the best of all worlds. Find your new home in this sparkling gem on the sun drenched Gulf coast of Florida, West Pasco County. Upscale, spacious homes available from the $300's to over $1 million. Cities and towns included in the West Pasco Country area include New Port Richey, Port Richey, Hudson, Holiday, Wesley Chapel, Odessa, Land O'Lakes, and Saddlebrook.