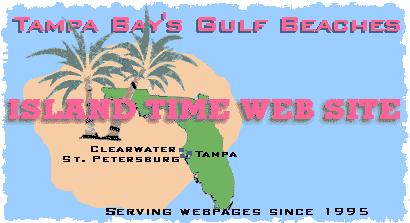 DIVERSIONS
Miscellaneous Features
from the
ISLANDTIME
Web Site
WELCOME to our Island ...
and Florida's friendly island communities of Clearwater Beach, Sand Key, Belleair Beach, Belleair Shores, Indian Rocks Beach, Indian Shores, Redington Shores, North Redington Beach, Redington Beach, Madeira Beach, Johns Pass, Treasure Island, St. Pete Beach, Pass A Grille, Tierra Verde & the whole of Pinellas County and the Tampa Bay Florida community.

Relax, put yourself on Island Time ...

And enjoy this potpourri of diverse links.

And, please visit our sponsors sites, they make these features possible.



 
---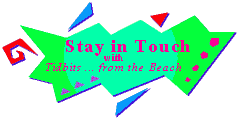 Subscribe to the
FREE
IslandTime Tidbits
Email Newsletter.
---
Automotive Diversions

---
Pictures from Oldsmobile's 100 Year Celebration in Lansing MI, August, 1997

Primarily pictures of Toronados and Toro owners.

Presented by the Toronado Chapter of the Oldsmobile Club of America
Hosted by IslandTime.com


---

GMC MOTORHOME FAQ
Devoted to information about of interest to GMC MOTORHOME owners. These great, classic Recreational Vehicles are based on the Oldsmobile Toronado drive train.


---

david's toronado and Links to Oldsmobile Toronado resources on the net.


---


Auto Gallery
Classic, Muscle & Antique Autos For Sale.
---
Education, Dialogue, & Imagination

---
---
eJokes from david

---
FREE SUBSCRIPTION to receive a daily joke via email.

EVENTS A calendar of events on and near the beaches for residents and visitors.

ATTRACTIONS Local, regional, and state-wide attractions.
The Moninger Family

Because he's the Webmaster, David Moninger has placed information concerning his family here, for anyone who cares to peek.
David's Photo Gallery

A presentation of photos taken by David from various places he has been and other photos relating to his interests.
---
---
---
NOTE:
The Island Time Web Site is constantly growing and expanding.

If you have information you'd like to contribute that will be of interest to residents and tourists, or you'd like to sponsor existing or future Island Time features, please contact David Moninger, Island Time Webmaster.