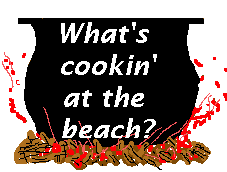 RECIPES FROM THE SEASHORE
One of of the many great things about sharing neighbors in a condominium environment is the chance to share recipes. Here's some of our favorites:
[ Tomato Aspic ] [ Brady Burgers ] [ Coquina Broth ] [ Kate's Great Artichoke Dip ]
---
TOMATO ASPIC
Here's one from Mrs Banks that's easy and delicious.

2 cups tomato juice (or V-8)
1 pkg. (3 oz.) lemon jello
3 tbsp. vinegar
1 tbsp. Worcestershire
onion juice,
chopped celery
olives

Heat 1 cup juice, chopped celery and olives.

Heat 1 cup juice to dissolve jello, then mix both together.

Serve with mayo on top of deviled egg.
---
BRADY BURGERS
Here 's a recipe that puts new pizazz into an old favorite. Easy to make and perfect for outdoor grilling. Make some up for the whole bunch

1 lb. hamburger
1 tsp. salt
1 tsp. garlic salt
pepper to taste
1/4 cup diced onions
1/4 cup BBQ sauce

Mix ingredients together, form into patties and grill to desired doneness.

Serves 4
---
COQUINA BROTH
As pretty as coquinas are on the beach, they are also pretty delightful in your mouth. Here's a recipe for Coquina Broth that you can prepare by spending an hour on the beach rather than an afternoon in the grocery store.

To find your main ingredient, run your toes through the wet sand just above the line where the waves are breaking. Coquinas are usually so plentifiul you should scoop up a quart or two in no time.

Collect several quarts of live coquinas.

Rise well to remove algae or debris. Cover in a pail with 1/2" water.

Add pepper, a little butter and a tablespoon or two of sherry.

Boil for 5 minutes.

Strain out the shells and serve the broth. Delicious as a tasty soup stock or base for other dishes.
---
KATE'S GREAT ARTICHOKE DIP
1 can artichokes
1 cup mayonnaise
1 3-1/2 oz. pkg. parmesan cheese
1/4 cup chopped jalapeno pepper
1 tsp. salsa

Drain artichokes well and chop.

Add mayo, cheese, peppers and salsa.

Bake in an 8x8 casserole dish at 350 until lightly brown.

Serve with tortilla chips.
---
Visit Cindi's:
---
More ISLAND LIFE Features
---
©1995, 1996, 1997, 2000 Cindi Peters, All Rights Reserved