It's doubtful that many of the 400,000+ people who gathered in Tampa on February 6 knew the stories told about José Gaspar, a daring Spanish pirate rumored to have headquartered on islands off the West Coast of Florida in the late 18th Century. Nor did they care.
This crowd had come to party!
This annual gathering started in May of 1904 when a local newspaper columnist is said to have started a festival that incorporated the pirate theme. Ye Mystic Krewe of Gasparilla arrived by horseback until 1911. The Gasparilla Pirate Fest, which now takes place annually in February, has grown to include a multitude of events, and more than 20 different Krewe's (social clubs) now participate.

Click on Images for Larger View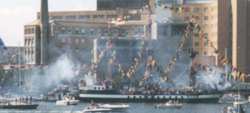 In 1999 modern day buccaneers invade the city by sailing into Hillsborough Bay, cannons booming. The main pirate ship, the JoséGaspar, is built entirely of steel these days, and moved by tugboats.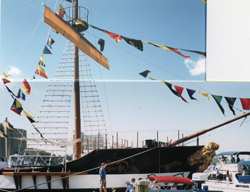 The fully rigged, black-hulled pirate ship is over 160 long. Three masts tower 100 feet above the deck. The ship is packed, stem to stern to crows nest with pirates.

Other Krewes arrive on chartered boats usually berthed on the Gulf Beaches.

The harbor is filled with boats. Waterfights are the order of the day. The shoreline and bridges along Harbour Island and the Convention Center are lined with spectators. Rock music eminates from Jackson's restaurant patio.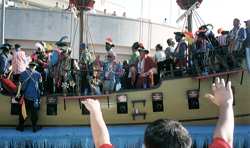 After the Invasion, the pirates join the Gasparilla Parade of Pirates winding along Bayshore Boulevard and the streets of downtown Tampa. Throngs of spectators party behind the barricades, trying to attract the attention of the bead-bearing pirates.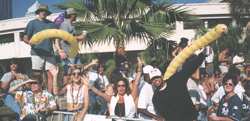 On-lookers push and shove to get an improved position to grab the beads and coins tossed into the crowds from the floats and conquering pirates.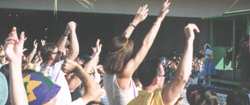 Every time a float comes by a hundred hands are waved in the air.

Combine these activities with a two-day Pirate's Chest Arts & Crafts Show show, and a Pirate Fest Street Festival featuring Carnival Rides & booths. A Fireworks display caps of the end of an exciting day. It's no wonder the Gasparilla Festival has become a tourism magnet for the Tampa Bay area each February.

José Gaspar? ... well, his story could be all be fiction ... but this modern day party to his memory is Very Real!
---
Tampa Bay area Events Calendar