Columbus Ship the Nina
visits Clearwater Beach, Florida
As we learned in school, Columbus sailed to the New World in 1492 with 3 ships, the Nina, the Pinta, and the Santa Maria.

What you probably didn't learn was how small these ships were!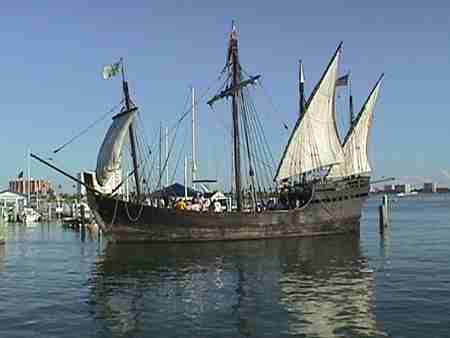 The Nina occupied a berth at the end of a Pier at the Clearwater Beach Marina.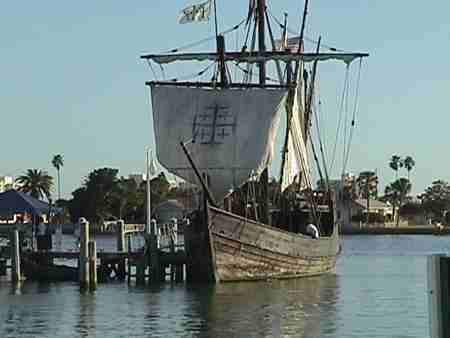 The Nina was open for inspection by visitors.
Just before Christmas (1998), a replica of the Nina sailed into Clearwater Harbor, and was open for pubic inspection.

Built in 1992 in Brazil, the ship has traveled more than 130,000 miles, serving as a "sailing museum". Hailed as the "most historically correct Columbus replica ever built" by Archaeology magazine, the ship was used in the movie 1492.

The Nina is only 66 feet long on deck, that's just 22 yards! A small boat indeed to take across the Atlantic. The original Nina must have been very strong, as she was the only one of a fleet of 17 ships to survive a hurricane in 1495.

A crew of 8 travels with the Nina. The ship stayed in Clearwater over the holidays, with needed repairs being made at the dock during January (1999).
HAVE YOU VISITED
©1999, 2000 David Moninger, All Rights Reserved
7/19/00
Since you've scrolled this far, you must be looking for somewhere to surf to? Try these: Bean Bag Chairs
Bean Bags and Water Beds
Beanbag Chairs
Belleair Bluffs Florida
BellArte Condos
Oriental Rugs
Realtor on Gulf Beachess
Classic Automotive Consultants
Cushions By Design
Florida Lightning Photographs
Florida Real Estate Guide
Florida Real Estate Guide
Florida Real Estate Guide
Tampa Bay Real Estate Guide
Florida Real Estate & Vacation Rental Guide
Clearwater Florida Real Estate & Vacation Rental Guide
East Florida Real Estate & Vacation Rental Guide
Florida Commercial Real Estate Guide
North Florida Real Estate Guide
Sarasota Florida Real Estate Guide
Tampa Florida Real Estate Guide & Vacation Rental Guide
Florida Real Estate Guide Florida Real Estate Guide Site Map
Gulf Coast Jewish Family Services
Golden Classics Automobiles
Contract Technical Employment
Indian Rocks Beach Florida
Florida Vacation Rentals and Real Estate
Floridas Gulf Coast for Tourists and Residents
Tampa Bay Gulf Beaches for Tourists and Residents
Clearwater Beach Floridas Gulf Coast Beaches
Tampa Bay Floridas Gulf Beaches for Tourists and Residents
St. Pete Beach Floridas Gulf Beaches for Tourists and Residents
Mardeira Beach on Florida's Gulf Coast for Tourists and Residents
The Redingtons - Florida's Gulf Coast for Tourists and Residents
Floridas Gulf Coast for Tourists and Residents
Floridas Gulf Coast for Tourists and Residents
Floridas Gulf Coast for Tourists and Residents
Floridas Gulf Coast for Tourists and Residents
Floridas Gulf Coast for Tourists and Residents
Internet Advertising opportunities
Tampa Bay Gulf Beach Attractions
Central Florida Attractions
Clearwater, Largo, Dunedin Florida Attractions
East Coast Florida Attractions
St Petersburg Florida Attractions
Tampa Florida Attractions
Auto Gallery
Great Book for real estate buyers
Gulf Beaches, local community information
Calendar of Events
Florida Real Estate Guide
Florida Real Estate Guide
Florida Vacation Rentals
Florida Beach Vacation
Island Life Features
Master Links Page
online shopping
Photo Gallery
1998 Christmas Photo Gallery
Busch Garden Photo Gallery
Clearwater Beach Photo Gallery
Gasparilla Photo Gallery
Nina Photo Gallery
Tampa Bay Gulf Beaches Real Estate
Tampa Bay Gulf Beaches Real Estate
Tampa Bay Gulf Beaches Real Estate
Tampa Bay Gulf Beaches Real Estate
Tampa Bay Gulf Beaches Real Estate
Tampa Bay Gulf Beaches Real Estate
Tampa Bay Gulf Beaches Real Estate
Tampa Bay Gulf Beaches Real Estate
Tampa Bay Gulf Beaches Real Estate
Tampa Bay Gulf Beaches Real Estate
Tampa Bay Gulf Beaches Real Estate
Clearwater Beach Real Estate
Indian Rocks Beach Real Estate
Indian Shores and IRB Real Estate
Madeira Beach Real Estate
Tampa Bay Gulf Beaches Real Estate
Tampa Bay Gulf Beaches Real Estate
Tampa Bay Gulf Beaches Real Estate
Tampa Bay Gulf Beaches Real Estate
Real Estate Professionals Internet Guide
Florida Vacation Rentals
REYNOLDS COMMERCIAL REALTY, INC.
Road Tripping
Beach Renourishment and Restoration
Gulf Beaches Links
Automotive Links
Bicycle Links
Business Links
Finance and Investment Links
Finding People
Search Engines and Directories
Tampa Bay Florida Schools
1991 Oldsmobile Toronado
Indian Rocks Beach Florida Vacation Rentals
Captians Quarters Vacation Rental
Clearwater Beach Florida Vacation Rentals

Treasure Island Florida Vacation Rentals
Indian Rocks Beach Florida Vacation Rentals
Florida Vacation Rentals
New Port Richey Florida Vacation Rentals
IslandTime Collectibles
John Edmons Tampa Area Realtor
Executive Search for IT Management
Florida Beach Real Estate
Cat Boarding in Tampa
Tampa Attorney
Littleton Radiation Oncology
Law Office of Pamela Tripp, Bankruptcy Lawyer
Moninger's online
David Moninger
Moninger Brewery
100 Years of Moninger Brewery
Moninger Brewery Collectibles
Zum Moninger Building
Moninger Genealogy
Moninger Family Photo Album
A Medical Center
The Hoffman Team at Premier Home Lending
A Florida Real Estate Agent
Sand Key Florida
Beauty Salon in Belleair Bluffs
Florida Beach & New Tampa Realtor
Don Charron - Tampa Bay area Realtor
Clearwater Beach, Florida Real Estate
Island Estates, Florida Real Estate
Sand Key, Florida Real Estate
Belleair Beach, Florida Real Estate
Belleair Shores, Florida Real Estate
Indian Rocks Beach, Florida Real Estate
Indian Shores, Florida Real Estate
Redington Shores, Florida Real Estate
North Redington Beach, Florida Real Estate
Redington Beach, Florida Real Estate
Madeira Beach, Florida Real Estate
Treasure Island, Florida Real Estate
St. Pete Beach, Florida Real Estate
Terra Verde, Florida Real Estate
TAMPA BAY WATERFRONT REAL ESTATE
Snell Isle, Florida Real Estate
Shore Acres, Florida Real Estate
Venetian Isles, Florida Real Estate
GOLF COURSE COMMUNITY REAL ESTATE
Pasadena Yacht & Country Club, Florida Real Estate
Bayou Club, Florida Real Estate
East Lake Woodlands, Florida Real Estate
Lansbrook, Florida Real Estate
Golf Course Directory
Search All Tampa Bay Listings
Buyer / Seller Tips
Paul Langrock - Tampa Bay area Realtor
Top Producer Software
Top Producer Software for Realtors
Real Estate Agent software
Marketing Software for Real Estate Agents
Contact Management Software for Real Estate Agents
Top Producer Software for Real Estate Agents
Real Estate Agent contact management software
Marketing Software for Real Estate Agents
Top Producer Software for Real Estate Agents
Top Producer Software for Real Estate Agents
Top Producer Software for Real Estate Agents
Top Producer Software for Real Estate Agents
Top Producer Software for Real Estate Agents
Top Producer Software for Real Estate Agents
Top Producer Software for Real Estate Agents
Top Producer Software for Real Estate Agents
Real Estate Clip Art from Top Producer
More Real Estate Clip Art from Top Producer
Frequently Asked Questions About Top Producer Software
Order Top Producer Software
Discount Prices on Top Producer Software
Product Descriptions of Top Producer Software
Specials on Top Producer Software
Support for Top Producer Software
Top Producer Users
Florida Vacation Rental Guide
Web site design and development
Pay with PayPal
Internet Marketing Strategies
Website Design and Development
Great website portfolio
About David Moninger, a great web master
Tax Savings & Asset Protection
Defined Benefits 412i
Long Term Care