Many folks "Road Trip" North from Tampa Bay, following Route 19 into Hernando County. Travelers may pass by, or stop to enjoy the attractions at Weeki Wachee, with it's unique Mermaid Show. (http://www.weekiwachee.com/)

For another kind of treat, Road Trippers should leave the main highway and venture West on Highway 550 (Cortez Blvd.) to be rewarded with a trip thru marshland, arriving at a park offering a view of the coast line along this remote part of Florida's Gulf Coast.

According to the historical marker located near the mouth of the Weekiwachee River:
"The Village of Bayport, located at the mouth of the Weekiwachee River sprang up in the early 1850's as a supply and cotton port. During the War Between the States, Union naval squadrons blockaded Florida's coasts to prevent goods and supplies from passing into and out of the State. By 1863 the East Gulf Blockade Squadron effectively closed the larger ports along the Gulf Coast. Small rivers, such as the Weekiwachee became important trade routes. Shipping at Bayport attracted the attention of The Union Blockade Squadron which intercepted eleven blockade runners near there between 1862 and 1865. After the war Bayport became Hernando County's major outlet for lumber and agricultural products, and continued to serve as its transportation center until railroad service came to Brooksville in 1885."
Today Cooglers Beach Park provides a quiet place to spend the day near the water swimming, fishing, and relaxing.



It's not the sandy beaches found in the Clearwater area, but at low tide the grass flats provide a gathering spot for most of the area birds.
CLICK FOR A MAP

And, the evening I was there, I was treated to these fantastic Sunset views.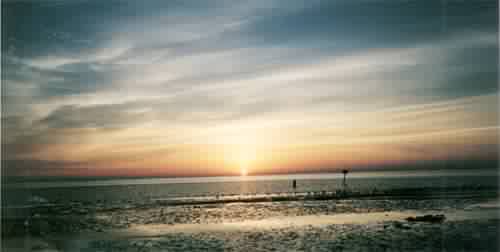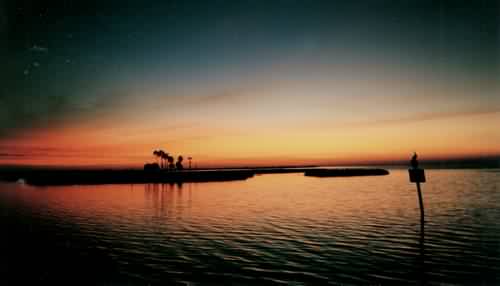 Take 595 North and find the end of the road at Pine Island. Or, take 595 South and explore the canaled "subdivision" of Hernando Beach and the town of Aripeka