TOP PRODUCER WEBSITES
Top Producer Websites deliver the industry's most complete website solution designed to help you build your brand, productivity and sales leads.
Equipped with dynamic designs, detailed community and school reports, local MLS listing data and real-time tracking tools, Top Producer Websites provides unsurpassed content and quality that guarantees to place you at the forefront with today's home buyers and sellers.
And with our team of expert Website Consultants to help you every step of the way, not only will you be confident that Top Producer Websites is the best solution for your business, but you'll finally have a website worth getting excited for!
We are so confident that you'll be satisfied with Top Producer Websites we offer an unconditional 30-day money-back guarantee.
MULTI-SITE TOP PRODUCER WEBSITES
Top Producer supports the ability to have multiple Websites under one account.

Real Estate agents, who understand the power of an online presence in today's market, also know that having multiple websites does not only increase their exposure but allows them to capture a bigger share of the internet business that is widespread in the industry right now.

Approximately 80% of consumers interested in real estate, start their search online and a lot of agents believe they are capturing their share with only one site.

However, Multiple "Targeted" sites are very important in driving more business to real estate agents by giving them broader coverage and additional tools to attract more online consumers.

For example, if an agent worked in TheirTown, they may have several website sites like www.TheirTownRealEstate.com, www.RE/MAX.TheirTown.com, www.NearbyTownHomes.com, etc… All of these sites may be owned and operated by one agent, but they can be managed to attract different online consumers using different techniques (Thus capturing and driving a bigger share of the online consumer to them).
DESIGNS
A professional web site design will promote your business image and make you stand apart from your competition. Take control of your web site theme, logos and photos and present the image you need to attract more buyers and sellers.

Put one of the industry's most impressive selection of regional themes and customizable templates to work today with the click of a mouse.
Content that holds consumers to your site
In combination with your site's professional design you need rich content. Consumers demand and expect high-value information at every stage of their buying and selling cycle. We also understand that it's the quality of content, and not the quantity of pages, that will portray you as the market expert.



Over 100 real estate articles professionally written by industry experts with topics that include home buying and selling, moving, home improvement, gardening, decorating, mortgage and finance.

Detailed Community Reports including up-to-date demographic, education, environment and crime information for over 30,000 communities nationwide. Your website visitors can easily lookup a single ZIP code or compare two ZIP codes. The report they receive includes an interactive map, detailed statistics, and all the amenity information they could ever want. And when they have questions? Customers click a help icon for a quick and thorough explanation.
Access listings from multiple sources with ease
Include your listings from multiple sources with ease and seamless integration.
Automatically display them on your web site and generate leads. Your site is an integral part of your marketing program so put it to work for you. Automatically display Top Producer CRM listings seamlessly and effortlessly.
Eliminate time consuming data entry and ensure consistency of information across your marketing programs.
Launch a site in minutes with our easy-to-use tools
Real estate professionals can build a custom-looking site with elegant simplicity using the customization tools in Top Producer Websites. Take control of your site with easy-to-use tools, including a 5-step wizard that leads you through the web site build and is always available to make real-time updates. Or, let our Top Producer Websites Consultants assist you to build your new site in minutes.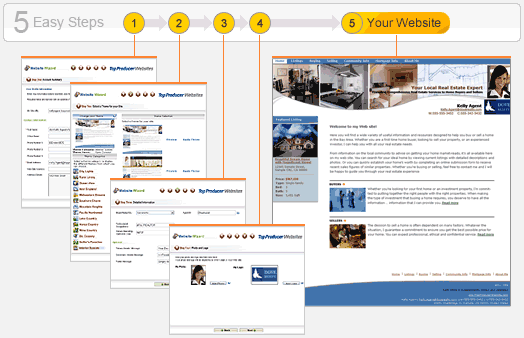 Take advantage of other tools that include:
Unlimited customizable lead forms that you can personalize and control. A simple text editor to create your own pages and update existing ones. A page manager to control what information consumers see and what services you offer.
Reporting
Reporting is an essential feature of your site. We help you identify what sections of your site are most valuable to your prospects. Learn how often they return to your site, and when they do return, what information brings them back. The reports on your site will not only help you measure the progress of your online marketing efforts but will also help you decide how to focus your advertising resources and your time.



Detailed statistics include your listing and page views, the number of unique visitors, entry and exit pages, where your visitors originate, and what search words consumers enter to find your site.
An Integrated System to Help Sell More Real Estate
Top Producer Websites offers comprehensive integration with Top Producer CRM to help ensure listings are marketed, leads get converted, and consumers' expectations are met. No other real estate productivity system lets them do so much, so easily.



Unlimited lead flow to Top Producer CRM from your website. Free flow of important data and single point of entry across your marketing platform. Unparalleled level of integration and convenience with Top Producer CRM.
EXAMPLES OF TOP PRODUCER WEBSITES:
Top Producer Websites can be customized to fit YOUR style, for YOUR marketing area. Below are just a few examples to demonstrate the different "look & feel" designs that will differentiate YOUR site from all the rest.


Top Producer IDX
Top Producer IDX is a proven lead generation solution that lets you leverage the power of the MLS to maximize your Web site's marketing and sales potential.

Designed to require almost no effort on your part, Top Producer IDX lets you instantly expand your online listing inventory and effectively build relationships with prospects by providing them with real-time MLS property data that directly addresses their buying and selling inquiries.

And that's not all. In addition to providing a full MLS property search interface, Top Producer IDX gives you:

A Property Alert feature that enables your Web site visitors to enter their search criteria and receive automated email updates of new listings that match Automatic posting of your own listings to a featured page Fully-personalized branding of all your marketing and communications The ability to compare up to 4 detailed property descriptions side by side A password-protected section for your registered subscribers to save their favorite listings and searches Tools to easily track the actions of registered site visitors, so you can prioritize your leads and respond more strategically Multiple lead forms, Virtual Earth Map with Aerial images, Community and School Reports, printable flyers Contact us today to learn more about Top Producer IDX, the industry's most innovative IDX marketing solution.
What is IDX And How Can It Help Me?
Internet Data Exchange (IDX) – also known as Broker Reciprocity or Internet Listing Display – is a NAR program that allows MLS members to display other members' listings on their company and personal Web sites.

IDX implementation can be time consuming, but Top Producer IDX does all the work for you, by working with your local MLS and automatically updating your Web site daily so it remains a valuable source of local listing information for online consumers.

With IDX, your web site becomes a valuable resource for early-stage buyers and allows you to maintain first contact with visitors to your site. The extra features of Top Producer IDX, such as saving searches and receiving property alerts, will do the work of drawing these visitors back to your web site while providing you with their valuable contact information and data on their search activities.

Not only that, but Top Producer IDX's extra features, like saved searches and automatic Property Alerts, will draw consumers back to your site and helps you to capture their contact details as well as their home search activities.