MARKET SNAPSHOT
Consumers want accurate information and a personalized experience when beginning their real estate buying and selling process online. Market Snapshot will help agents cultivate active leads by providing the most current Multiple Listing Service® market information.



The Market Snapshot service sends consumers a link to Market Snapshot within 30 minutes from the time the consumer requests market information. The consumer can then control how often they want to receive updated Market Snapshot information.

Creating trusting relationships with consumers is critical to successful marketing online. Market Snapshot provides a valuable way to automatically provide responsive, personal service throughout the buying and selling process.





The Market Snapshot provides valuable and timely data which addresses at-a-glance additional questions that consumers may have. This ability to trigger additional questions and concerns helps to shape a valuable dialogue with the sponsored agent and the inquiring consumer. This positions the agent as the interpreter rather than the simple provider of data which helps facilitate the first telephone contact.

Review each section of the Market Snapshot below to experience the real-time content produced from the local MLS. Top Marketer produces the Snapshot so there is no effort on the agent's behalf required to continually create the report. This is the type of information that will help you to persistently cultivate strong relationships with your consumers.

Now available through Top Producer 7i. You can now use your Top Producer 7i to designate clients or prospects to have the Market Snapshot automatically created and delivered.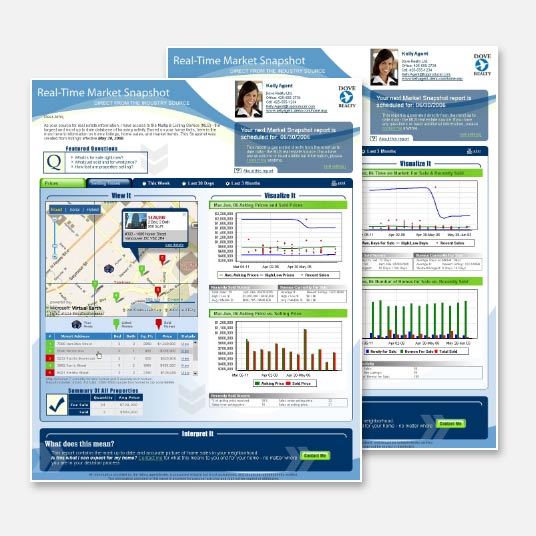 For more information on a certain area, move the mouse pointer over the circles.
Prices Page
Selling Times Page

1

2

3

4

5

6

7

8

9

10

11

12

13

14

15

16

17

18
Track your Leads in Top Producer 7i


Leverage the industry's most successful sales and marketing solution, Top Producer 7i, in combination with Top Marketer to take full advantage of the majority of consumers that begin the home buying and selling process online.Consumer information is seamlessly captured in Top Producer 7i so you can quickly respond with personalized community and school reports, and easily create an automated follow up Action Plan.



Learn More


Branded for You Your brand remains 'front and center' throughout all communications to consumers. This service helps develop relationships with the consumers as they conduct their lengthy research, ensuring that the agent is both visible and well-considered when they make their important decision to choose a specific agent.



Learn More with Live Support and Coaching


Our Market Snapshot consultants are highly trained professionals ready to provide you with real time strategies to cultivate leads, take full advantage of the marketing tools our service provides, and help you get more listings today. One-on-one coaching is provided to help you maximize the value of Market Snapshot within your marketing area.